Replace Your Missing Teeth & Regain Confidence In Your Smile With Modern Dental Bridges
Get Affordable Porcelain Bridges From A First-Class Dentist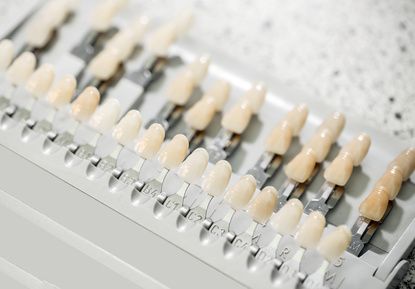 Our State-Of-The-Art Modern Porcelain Bridges Blend In To Look & Feel Like Your Natural Teeth
Bridge
Does a missing tooth (or teeth) make it embarrassing to smile and difficult to eat and speak? Dr. Dena can provide you with a new tooth and a complete smile makeover with porcelain-fixed dental bridges.
Get first-class dental care from, Dr. Dena, a local dentist with over 20 years of experience

Look & feel your best with natural-looking & feeling porcelain bridges

Our bridges last 15-20 years with proper care

Affordable prices

Friendly staff & kind environment
Having missing teeth can create many problems, such as bad appearance, embarrassment when smiling and difficulty eating and speaking. If you have missing teeth, Dr. Dena may suggest a prosthetic known as a porcelain fixed dental bridge.

​​​​​​​Porcelain Fixed bridges are generally recommended if you have one or more missing teeth in a row. A fixed bridge "closes the gap" by adding a new porcelain tooth (or teeth). The dental bridge fits into the gap left between missing teeth and attaches to crowned "abutment" teeth on either side. A bridge cannot be removed, and with proper care, it should last about 15-20 years.


Our bridges are modern, look natural, feel natural, & are made from dental-grade porcelain. When you come in for your free consultation or appointment you will be amazed by the incredible & prompt service you will receive. Dr. Dena has been practicing for over 20 years & has graduated from one of the top dental schools in the nation, USC School of Dentistry, in the top 2% of his class. Needless to say you can rest assured that when you come in for your free consultation or appointment, you will be in good hands.
Get Affordable Porcelain Bridges From A First-Class Dentist, Call: 760-943-7788


​​​​​​​How Porcelain Crowns Work :
For people with damaged teeth such as a large cavity or cracked teeth, Dr. Dena may recommend a porcelain crown. These tooth restorations can also be used to replace old metal dental work to provide a natural-looking smile makeover with an attractive all-white smile.
Porcelain Crowns can be used for :
Repairing chipped, decayed, or cracked teeth,
Filling unsightly gaps and spaces between teeth,
Making teeth even and uniform by shaping teeth that are damaged, chipped, cracked, or broken
Whitening severely discolored or dull teeth.
Providing natural-looking white teeth – porcelain crowns look like natural teeth and provide a bright-white new smile that improves overall appearance.
Porcelain crowns are custom made in our dental lab and cover the tooth to restore damage caused by a large cavity, crack, or other structural problem. White porcelain crowns blend with existing teeth, so your naturally beautiful smile will not be tarnished by metal dental work. Porcelain crowns are a durable and natural-looking solution to repairing damaged teeth. The result is a complete smile makeover that will make you want to show off your smile.
Placing a porcelain crown requires just two visits :
The first appointment includes preparing the tooth, taking an impression, and placing a temporary crown. Between visits, our dental lab creates the custom porcelain crown according to our specifications.
During the final appointment, we remove the temporary and permanently cement the permanent porcelain crown.
Get Affordable, Modern Dental Bridges or Crowns, Call: 760-943-7788
Why is a dental crown needed?
A dental crown may be needed in the following situations:
To protect a weak tooth (for instance, from decay) from breaking or to hold together parts of a cracked tooth
To restore an already broken tooth or a tooth that has been severely worn down
To cover and support a tooth with a large filling when there isn't a lot of teeth left
To hold a dental bridge in place
To cover misshaped or severely discolored teeth
To cover a dental implant
To make a cosmetic modification
What types of dental crowns are available?
Permanent crowns can be made from stainless steel, all-metal (such as gold or another alloy), porcelain-fused-to-metal, all resin, or all ceramic.
Stainless steel crowns are prefabricated crowns that are used on permanent teeth primarily as a temporary measure. The crown protects the tooth or filling while a permanent crown is made from another material. For children, a stainless steel crown is commonly used to fit over a primary tooth that's been prepared to fit it. The crown covers the entire tooth and protects it from further decay. When the primary tooth comes out to make room for the permanent tooth, the crown comes out naturally with it. In general, stainless steel crowns are used for children's teeth because they don't require multiple dental visits to put in place and so are more cost-effective than custom-made crowns and prophylactic dental care needed to protect a tooth without a crown.
Metals used in crowns include gold alloy, other alloys (for example, palladium), or a base-metal alloy (for example, nickel or chromium). Compared with other crown types, less tooth structure needs to be removed with metal crowns, and tooth wear to opposing teeth is kept to a minimum. Metal crowns withstand biting and chewing forces well and probably last the longest in terms of wear down. Also, metal crowns rarely chip or break. The metallic color is the main drawback. Metal crowns are a good choice for out-of-sight molars.
Porcelain-fused-to-metal dental crowns can be color-matched to your adjacent teeth (unlike the metallic crowns). However, more wearing to the opposing teeth occurs with this crown type compared with metal or resin crowns. The crown's porcelain portion can also chip or break off. Next to all-ceramic crowns, porcelain-fused-to-metal crowns look most like normal teeth. However, sometimes the metal underlying the crown's porcelain can show through as a dark line, especially at the gum line and even more so if your gums recede. These crowns can be a good choice for front or back teeth.
All-resin dental crowns are less expensive than other crown types. However, they wear down over time and are more prone to fractures than porcelain-fused-to-metal crowns.
All-ceramic or all-porcelain dental crowns provide a better natural color match than any other crown type and may be more suitable for people with metal allergies. However, they are not as strong as porcelain-fused-to-metal crowns and they wear down opposing teeth a little more than metal or resin crowns. All-ceramic crowns are a good choice for front teeth.
Temporary versus permanent. Temporary crowns are made at our office, whereas permanent crowns are made in a dental laboratory. Temporary crowns are made of acrylic or stainless steel and can be used as a temporary restoration until a permanent crown is constructed by a lab.
Zirconia or milled crown is a very hard ceramic that is used as a strong base material in some full ceramic restorations. Zirconia crowns allow light to pass as a normal tooth would and that gives a natural look, unlike other metal cores that block the light. They are digitally constructed either in an office that has the software and hardware to produce them or in a dental lab.
How long does it take to fit a dental crown?
Fitting a tooth for a crown usually requires two visits with Dr. Dena. The first visit takes approximately one hour and involves examining and preparing the tooth, and placing a temporary crown. The second visit involves the placement of the permanent crown, which takes about half an hour.