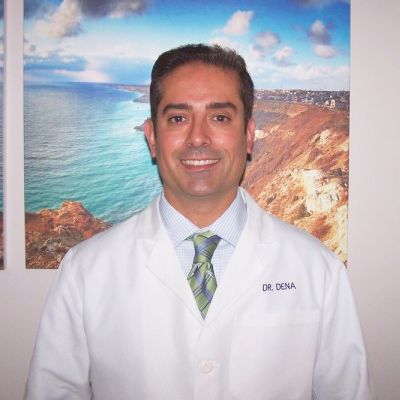 My passion for helping others achieve lasting self-confidence through a healthy smile has led me to become a trusted dentist in Encinitas, Carlsbad, and Del-Mar.
Assisting others in obtaining the smile of their dreams gives me immense personal satisfaction. I take pride in being one of the few area dentists who offer a kind and compassionate approach through the application of gentle dentistry. I have an extensive background as an emergency dentist, cosmetic dentist, and family dentist offering comprehensive dental care for my patients of every age. From teeth whitening to dental implants, we have a full-service practice here at San Diego Premier Dental Group.
I have been practicing dentistry for more than
1
years after graduating in the top 2% of my graduating class as one of the youngest dentists in the history of the USC School of Dentistry! This earned me a place in OKU, Omicron Kappa Upsilon, a Dental Honor Society. I also volunteered my time in providing dental services in underprivileged areas. I am committed to exploring new dental techniques and services by taking continuing education credits each year. I am pleased to be able to help my patients achieve long-lasting dental health through advanced dental techniques and ongoing oral care.
I look forward to the opportunity to be the trusted dentist you can depend on for the dental care of you and your entire family. With diligence, commitment, and dedication I offer my complete dental services to fulfill all of your dental needs. When you choose San Diego Premier Dental Group, you can be certain your teeth are in the best hands!

My Dentofacial approach to dentistry marries the form and function of the face to the shape, size, and color of the teeth. We can combine any of our myriad services such as

porcela

in veneers

, dental implants, and dental inlays-onlays into one package to fit the needs of any patient.

Additionally, at San Diego Premier Dental Group, we provide standard services such as crowns, bridges, and general dentistry, yet all our services are performed with the precision and refinement that is far above typical standards. The results are dazzling, which is why our clients come from as far away as Canada, France, and Germany to achieve them.
Dr. Dena takes great pride in perfecting the art of dentistry, and he's passionate about delivering beauty to his
commun
ity
and loves giving back in any way he can. He has an extensive background in the dental field as well as a strong appreciation for the arts, making him the perfect fit for crafting smile makeovers. Bring the entire family to our office to make sure all your loved ones receive the best possible care.
Dr. Dena is also a member of various prestigious dental associations: American Dental Association, California Dental Association, and San Diego Dental Society.

In His spare time, Dr. Dena enjoys outdoor activities with his family, such as hiking, skiing, swimming, and traveling. His free time is usually spent surrounded by people closest to him and enjoys exploring and traveling to new locations with his family.

In addition, volunteering and giving back is very important to Dr. Dena.
Call us at 760-943-7788 today to schedule your dental appointment or to receive answers to any questions you may have.